Spotlight
Dr. Rebecca Hasson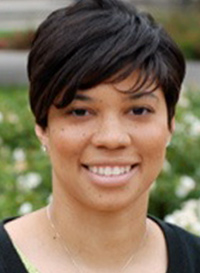 Biography:
Rebecca Hasson, Ph.D., is an Assistant Professor in the Schools of Kinesiology and Public Health and Director of the Childhood Disparities Research Laboratory at the University of Michigan. Dr. Hasson received her undergraduate and graduate degrees from the Department of Kinesiology at the University of Massachusetts, Amherst. After graduating, she completed a postdoctoral research fellowship at the University of Southern California's Childhood Obesity Research Center and a second postdoctoral fellowship at the University of California at San Francisco's Center on Social Disparities in Health as a W.K. Kellogg Health Scholar.
Research Objectives:
My research broadly focuses on the complex causes and consequences of racial/ethnic disparities in obesity and obesity-related metabolic complications among children and adolescents. More specifically, I am interested in understanding why these disparities exist by examining the interrelationships between environmental, behavioral and biological factors that contribute to metabolic health disparities in African American, Latino and non-Latino white youth. In addition, my research aims to reduce disparities in multiethnic pediatric populations through the design and implementation of physical activity interventions.
What projects are you currently working on?
In collaboration with the Taubman College of Architecture and School of Education we are using a multidisciplinary approach to combat childhood obesity and physical inactivity. INPACT (Interrupting Prolonged sitting with ACTivity) is a novel classroom-based physical activity intervention to improve the fitness of teachers and students, while simultaneously improving academic achievement. Our goal is to support teachers in leading their classes in 5, 4-minute activity breaks throughout the school day that closely represent children's natural physical activity patterns and may be an effective tool at energizing and motivating students to be physically active. For more information, visit the study website at: www.inpact.kines.umich.edu.
Additionally, with Community Action Against Asthma (CAAA), we are pilot testing an intervention guided by community-based participatory research (CBPR) principles to promote increased physical activity for elementary school aged children during the afterschool and weekend time period. The goal is to adapt known strategies for promoting activity in children to the unique needs and existing community resources of the African-American, Latino/Hispanic, and Arab-American communities of Detroit and Dearborn, and integrate these with strategies for promoting safe physical activity for children with asthma, so that all children can participate in these programs.
What led you to pursue childhood obesity research?
In understanding the pathophysiology of racial/ethnic health disparities, I was interested in understanding what is the most critical time period in an individual's life when they are most vulnerable to the negative effects of their social environment. This question led me to pursue research in the area of childhood and adolescent obesity.
What do you like most about your job or what do you find most exciting about it?
Seeing the enjoyment experienced by children involved in our classroom-based physical activity intervention is truly the most exciting part about our research. We leave the schools knowing that we are improving the health and well-being of children in Southeast Michigan.
The Momentum Center is a cross-disciplinary research center. How have you drawn on your other experiences to do this kind of research?
With multidisciplinary training in exercise physiology, energy metabolism, pediatric endocrinology, health disparities, and social epidemiology, I have a unique set of skills and experience to examine metabolic health disparities in pediatric populations. Whereas my public health training enables me to identify environmental factors that are associated with metabolic health disparities, my biomedical training qualifies me to investigate the underlying physiological mechanisms of racial/ethnic differences in metabolic health during the critical period of adolescent growth.
If you had unlimited time and resources to explore a research question, what would you want to study?
With unlimited time and resources I would continue to work with my InPACT team to not only redesign classrooms but redesign entire schools to promote movement and learning in elementary school children.
For more Members see the
Member Spotlight Archive
.