Spotlight
Lindsey Mitchell, Momentum Center Executive Director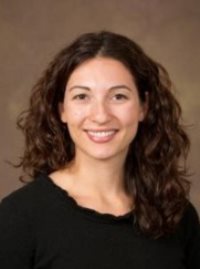 What is your background and what do you do with the Momentum Center?
I hold a BA in Elementary Education and an MPH in Health Behavior in Health Education, both from the U-M. I worked at MHealthy for 8 years as a Wellness Coordinator, in a split role between the employee wellness and Project Healthy Schools programs, before coming back to the School of Public Health in 2015. At that time, I was the research coordinator for Dr. Peterson's Children's Environmental Health Center and assisted with the Momentum Center. Today I manage the day-to-day operations of the Momentum Center as well as develop short and long range planning and strategies, in consultation with Center leadership.
What led you to pursue work in the field of childhood obesity?
I was overweight as a child and young adult and it wasn't until I was in college that I learned more about healthy eating and exercise, and made some significant lifestyle changes. I felt so much better after I developed my new healthy habits and wanted to work in the field of childhood obesity to help kids learn these skills at a younger age. What has been fascinating for me in this job, however, is learning how multi-faceted the causes of overweight and obesity really are. I have gained great insight from the members of the Momentum Center through their obesity research that spans cells to society.
What do you like most about your job or what do you find most exciting about it?
I really love interacting with so many different people. In my role, I get to connect with faculty, staff, and students, as well as local, regional and national organizations and experts. It is great to learn what everyone is doing and I also like getting to make new friends!
What do you want members to know?
I would like the members to please use me as a resource when it comes to your child obesity research. Whether you are seeking community contacts, research partners, or other resources, please ask me! I have worked at the U-M and in the child obesity field for almost 11 years. If I don't know the answer to your question, I will find someone who does!
For more Members see the
Member Spotlight Archive
.