Member Spotlight
Dr. Laura Saslow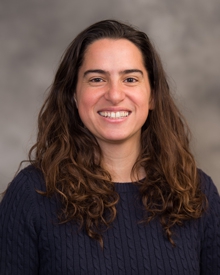 Dr. Laura Saslow is an Assistant Professor in the Department of Health Behavior and Biological Sciences at the School of Nursing. She holds an MS in Teaching and Learning (Education) from Vanderbilt University and a PhD in Social and Personality Psychology from the University of California Berkeley. She was also a Postdoctoral Scholar in Integrative Medicine at the University of California San Francisco. Although she hasn't done any studies on childhood obesity yet, she is interested in doing so, particularly studying the impact of low-carbohydrate diets for weight loss, since in adults (and preliminarily in children, according to a small meta-analysis) they are more effective than low-fat diets for weight loss.
Dr. Saslow is currently working on a clinical trial evaluating three approaches for improving long term dietary adherence, including positive affect skills, mindfulness and mindful eating, and dietary tracking. The main program teaches a very low-carbohydrate, ketogenic diet for adults with type 2 diabetes using an online and mobile format. She is also helping to mentor several students, including two projects in Thailand for adults with type 2 diabetes and a project to help motivate adults with prediabetes to join the Diabetes Prevention Program (DPP).  Additionally, Dr. Saslow is collaborating on a pilot study of a low-carbohydrate diet version of the DPP and, separately, testing the impact of adding mindful eating training to an in-person low-carbohydrate diet program for adults with type 2 diabetes.
Dr. Saslow is motivated to use science to help people make sustainable, enjoyable, and salutary health behavior changes. She enjoys the variety that being a professor involves: writing grants, doing research, mentoring students, writing publications, teaching, and service to the department and wider community. Her broad interests include educational technology, tech-based learning, food and flavor, sleep, and positive emotions and mindfulness, which she gets to combine in her research. We look forward to seeing how Dr. Saslow integrates these different areas of interest and her future contributions to the field of childhood obesity!
For more Members see the
Member Spotlight Archive
.