Spotlight
Dr. Kanakadurga Singer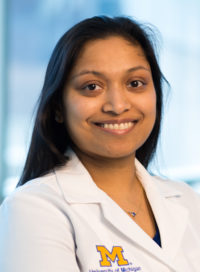 Biography:
Kanakadurga (Durga) Singer, M.D., is an Assistant Professor at the University of Michigan Medical School. She received her Bachelor's in Biophysics and Philosophy as well as her Master's from Johns Hopkins University. Dr. Singer attended the University of Michigan for her medical school education, Pediatrics Residency, and Pediatric Endocrinology Fellowship.
What projects are you currently working on?
The overarching goal of the research in my laboratory is to understand the impact of high-fat diets and obesity on the immune system. Specific projects in the lab have stemmed from trying to answer questions about how obesity and excess fat actually leads to disease. How can we identify which individuals are at risk for future metabolic and cardiovascular disease? Does immune activation in obesity lead to some of the consequences of a high-fat diet, such as diabetes and heart disease? We have used a combination of studies in animal models fed a high-fat diet and clinical studies of circulating white blood cells to answer these questions. More recently we have focused on trying to understand sex differences in these inflammatory responses and if these drive differences in metabolic and cardiovascular disease that we observe in men and women.
What led you to pursue childhood obesity research?
I initially became interested in understanding why some individuals are at risk for metabolic and cardiovascular disease from obesity as they become adults while others seem to be protected from the health consequences of high body mass. When I entered the field of pediatric endocrinology, I became more intrigued about the rise in obesity at younger ages and the impact that is going to have on lifetime disease risk. I became frustrated about the lack of effective treatment strategies to prevent metabolic disease for families and children struggling with weight.
What do you like most about your job?
I really enjoy the dual aspect of both building relationships and treating patients in clinic while doing research. Working with the next generation of trainees to further our understanding of how nutrition and obesity lead to disease is very rewarding.
The Momentum Center is a cross-disciplinary research center. How have you drawn on your other experiences to do this kind of research?
I have been fortunate to collaborate with several other researchers at the University of Michigan to further understand the impact of obesity on child health.  I have been able to draw on their expertise in the biology of normal development, which is a big part of understanding any problem that involves growing children. I have also had the opportunity to collaborate with clinical and health services researchers, which allows us to take a step back from the mechanisms we study in individual patients and in animals and ask how obesity is shaping health on the population level.  I think that over time we will make the greatest impact as researchers from cross-disciplinary research efforts.
If you had unlimited time and resources to explore a research question, what would you want to study?
If I had unlimited time and resources, I would want to work towards building a multi-racial cohort of children that could be followed through time to identify different biomarkers that are altered in those children developing metabolic disease. As a next step, I would hope to identify how to prevent this disease progression thought identification of dietary factors lead to mechanistic changes driving disease so we can create personalized treatment strategies.
For more Members see the
Member Spotlight Archive
.