Member Spotlight
Dr. Richard Dopp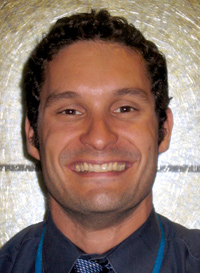 Dr. Richard Dopp is a Clinical Assistant Professor in the Department of Psychiatry, specializing in Child and Adolescent Psychiatry. He holds an M.D. from the University of Michigan Medical School, completed his residency with the University of Michigan Health System in Psychiatry in 2004 and fellowship with the Child & Adolescent Psychiatry at UMHS in 2007. Dr. Dopp's research focuses on the treatment of depression in youth who are overweight and obese, as these adolescents face additional challenges with respect to mental and physical health. Youth with depression are oftentimes less active than their peers. Depression is a risk factor for obesity and obesity is a risk factor for depression. Additionally, some of the medications used to treat depression and bipolar disorder may cause weight gain as a side effect.
As a child and adolescent psychiatrist, Dr. Dopp incorporates a focus on both sleep and physical activity in the treatment strategies for adolescents with depression. Dr. Dopp often "prescribes" exercise to patients with depression, and at the UM Depression Center, they are examining the effects of a group exercise intervention with adolescents with depression. These clinical research projects allow him to study the relationships between obesity, depression, sleep and metabolism while also helping youth who are struggling with depression. He finds satisfaction in the process of teaching future clinicians while also providing excellent patient care and providing adolescents and parents ways to treat their depression and prevent future episodes.
Dr. Dopp has actively participated with the Momentum Center, which has helped him to understand the ways that our society, culture and environments impact opportunities for physical activity. His interests in physical activity and sleep in depressed adolescents goes beyond the state of Michigan; Dr. Dopp would love to study the health and academic effects of establishing vigorous physical activity patterns for youth through a nationwide collaboration with schools, and hopes his work empowers adolescents to learn life strategies they can use to benefit themselves and others.
For more Members see the
Member Spotlight Archive
.